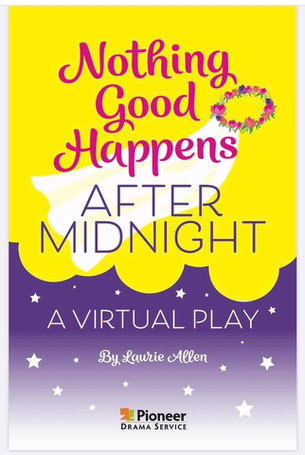 There's no doubt why this fast and funny comedy was the first play selected by Taphouse Theatre for their Shelter-in-Place virtual performances!  Your favorite comedy sketch writer, Laurie Allen, has hit it out of the ballpark with this hysterical 15-minute play, ideal for community theatres or high schools.
Taking place in April 2020, bride-to-be Savannah learns the hard way that being quarantined alone in her apartment does not mix well with pre-wedding jitters.  With her fiance, Billy, quarantined with his parents, she relies on video conference calls with Billy and her parents for support.  But one fateful night with a pair of scissors and a poor — very poor — attempt at hair dressing might jeopardize the festivities.  
Your audience will split their sides laughing as they watch first her parents' then Billy's reactions to her butchered haircut.  A small cast and super easy costuming and backgrounds make this virtual play a snap to produce! 
See more photos of NOTHING GOOD HAPPENS AFTER MIDNIGHT productions HERE.
NOTHING GOOD HAPPENS AFTER MIDNIGHT  was picked up and published only days after it's debut performance! You can purchase the play from Pioneer Drama Service HERE.