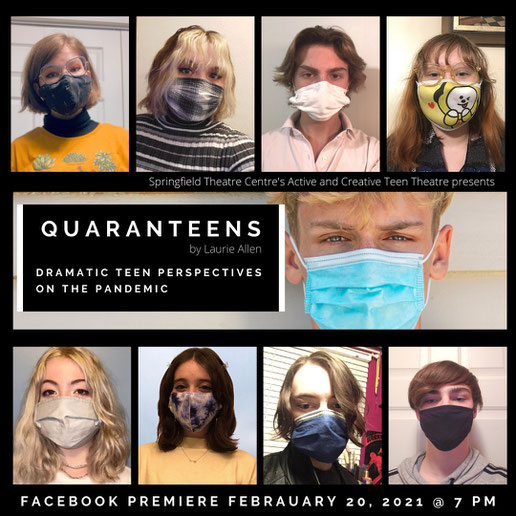 Springfield Theatre Centre will perform some of the monologues from my collection, QUARANTEENS, Dramatic Teen Perspectives on the Pandemic, this Saturday at 7 PM on their Facebook page!
We are so excited to bring you these teen perspectives on the pandemic! Directed, performed, filmed, and edited by members of our Active Creative and Teen Theatre group, better known as ACTT. Quaranteens will premiere on Facebook Saturday, Feb. 20, 2021.
 Quaranteens will be free to watch, but ACTT will be accepting donations for their upcoming projects if you are able to give. You won't want to miss these profoundly poignant monologues that are so relevant today!
We are just a few hours away from the premiere of ACTT Presents: Quaranteens! And we have a surprise for you all! After tonight's premiere, we are fortunate enough to have the author, Laurie Allen join the cast and staff for a Facebook Live Q&A! Tune in on our Facebook page around 7:40 pm tonight after the premiere to join Laurie and our very own cast and staff. There will be a chance for both ACTT and those watching at home to ask Laurie questions, or even to give some shout outs to this talented cast and staff! We hope you join us after the show!